February-
March 2014
Life on Purpose
------------------

IMPRESS: D6 2013
by Eric K. Thomsen
"Like this, Daddy?"

My four-year-old daughter made a face as she pushed her small hands firmly into the wet plaster.

She crinkled her forehead as the cold, slimy mixture squished between her fingers. "I don't like it, Daddy. Do I have to keep my hands in here?" Four minutes later—hours to her—the quick-setting plaster hardened enough to let her wiggle her fingers free and scamper back to her toys.

Ten years later, I gaze at those tiny plaster handprints and marvel that her hands were ever so small. I recall a thousand treasured memories—the first time she said, "I love (wuv) you"; the enormous, pink bunny that crossed the country in our small car because she refused to leave it behind; the herd of stuffed animals kept under her bed…on her bed…around her bed; the "rock collection" her mother discovered under clothes in her dresser drawer; her excitement on her first camping trip. I can't help but smile.

Those days, months, and years slid by quickly, and the tiny hands that struggled to color inside the lines learned to play beautiful piano concertos, bake cupcakes, spike volleyballs, and knit intricate creations. And one day, out-of-the-blue, a young woman appeared at the breakfast table to take the place of my barefoot tomboy.

I can't help but wonder about other moments that passed unnoticed as my daughter watched my faith, marriage, ministry…and struggles. Moments when my words, actions, and decisions influenced her growing relationship with God. Moments when I left a permanent impression—spiritual handprints, you might say—on her life.

No one holds more spiritual influence in the life of a child than her parents. God created the family so His name could be passed through the ages, generation to generation (Deuteronomy 6:4-9). And it is crucial for churches to equip parents to fulfill this command. That is why the D6 Conference exists.
Impressed

At the two events, D6 Dallas and D6 Louisville, more people attended this year's events than in 2012: with over 1250 in Dallas and nearly 1,300 attendees in Louisville from Australia, Canada, France, India, Korea, New Zealand, Uganda, and certainly from the United States.
The two D6 events, Dallas held in September and Louisville on October 16-18, mark the fifth year for the D6 Conference. An additional 2,000+ online viewers joined them as some of the main stage sessions streamed live around the world. These parents, teachers, and church leaders took part in the conference to learn new ways to impress faith on the next generation.

Over three days, a slate of 40 speakers addressed subjects ranging from marriage to culture, parenting, church ministry, purity, and more. But at the heart of each message was a single underlying theme: IMPRESS.



Blogger Heidi Hensley captured an accurate picture of the conference on her blog: "D6 is an outstanding conference with something for everyone in ministry. The prime focus is families, but there are tools for women's ministry, men's ministry, kid's ministry, and more. One of the best methods of training I have ever received is learning experiences shared by others. That's D6."

Heidi's right. Consider just a few of the lessons and experiences shared throughout the conference:

Dr. James Dobson (pictured above), best selling author and founder of Focus on the Family and Family Talk, urged conference attendees not to sacrifice marriage and children for the sake of ministry ambition, but to remember, "it doesn't matter what you or your children accomplish as long as they are there on that great day when you reach the other side."


Dr. Tim Kimmel, founder and executive director of Family Matters, identified thriving families as those with outwardly focused parents deliberately trying to lead their kids spiritually. "God's love is best transferred through spiritually thriving families, is best captured through churches and homes that reflect His heart, and is best delivered through a well-thought strategy guided by God's truth and tempered by His grace."


Derek Bell, director of development and vice president of FWB Family Ministries, stressed the need for providing a godly example to the next generation. We are the only example our young people have. It's our actions, not our words, that show them how to live out our faith.


Timothy Paul Jones, award-winning author, scholar, and professor of family ministry at The Southern Baptist Theological Seminary, challenged parents to teach their children to join the story of God's redemptive kingdom. "Don't limit God," he challenged. "Invite them to be part of a story for the ages…there is no boundary to the story God is writing around the world."
First Impressions

The D6 conference reaches far beyond main stage speakers. People flooded the hallways between sessions, sharing common experiences, swapping ideas, and sometimes praying together over shared burdens.

Many D6 attendees arrived a day early to attend 40 Pre-con Labs led by presenters such as John Trent, bestselling author and founder of the Center for Strong Families; Walt Mueller, president of the Center for Parent/Youth Understanding; Allen Pointer, director of the Truth & Peace Student Leadership Conference; and Brian Haynes, creator of Legacy Milestones and author of Shift: What It Takes to Finally Reach Families Today.


Seeds Family Worship kicked off the week with the appropriate song, "Impress Them Upon Your Children," with lyrics taken directly from Deuteronomy 6:4-6. The energetic group, started when worship leader Jason Houser was asked to write songs to help kids remember Bible verses during Vacation Bible School, connects families to Christ through songs that take their lyrics from Scripture.

Shane and Shane (pictured above), Texas-based band known for acoustic praise music, led the audience in worship throughout the conference. As the melody of "Christ Alone: Cornerstone" echoed from the ballroom, several hotel employees joined the crowd, drawn by the powerful sound of the 1,300-voice choir. "Now, that's good music!" said one hotel kitchen worker when he reluctantly returned to his workstation.
After five years, Tommy Woodard and Eddie James—the comedy duo better known as The Skit Guys—are a staple of the D6 Conference. Their comedy left listeners laughing hysterically, welcome relief from hours of intense training. The sidesplitting comedy sometimes turned serious, however, with introspective sketches that encouraged leaders not to let the difficulty of ministry keep them from fulfilling their calling to impress their faith.
Final Impact

After three days of intense fun, fellowship, and training, the 2013 D6 Conference came to an end. Thirteen hundred people sat in silence for 60 seconds, contemplating changes to be made in their lives and ministry before Tommy Swindol, minister of young adults at Donelson FWB Church, Nashville, Tennessee, dedicated those decisions to God. During the final moments of the conference, attendees joined Shane and Shane for one final, thunderous refrain of "That's How You Forgive."


D6 Coordinator Brandon Roysden reflects on another successful conference: "The D6 Conference is a wonderful example of what can happen when a group of people pull in the same direction and care deeply about the things God cares about. Generational discipleship is His plan, and we want to provide a platform where parents and ministry leaders learn from each other about how that applies in their particular context. I can hardly wait for next year!"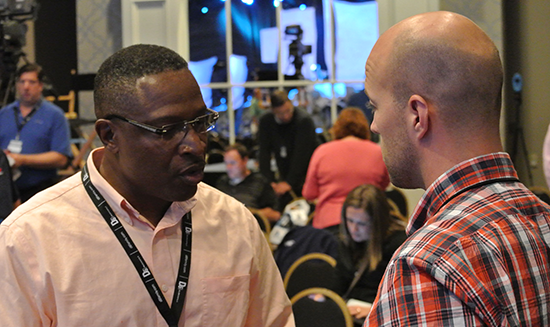 With more people attending the combined conferences this year than in Dallas last year, the D6 movement continues to shape the body of Christ in family and discipleship. Dual conferences will continue in 2014, as D6 returns to Dallas, September 18-19 and Louisville, October 2-3. Follow the developing details of the 2014 conferences at D6Conference.com.

Ron Hunter Jr., executive director of Randall House and D6 Conference director, shared with the attendees a description of the ceiling of the divinity school examining room inside the Bodleian Library at Oxford. "The 500-year-old, ornate stone carved details of the vaulted ceiling, include statues, fan shaped designs, and emblems all of which took 85 years and three generations of masons. What the father started, his grandson would complete for us to enjoy today. Decisions we make today about values within family will affect our grandchildren's grandchildren."
+ + + + + + +
D6 2013 Highlights
DALLAS September 25-26

For the first time, D6 expands to two cities. More than 1200 attendees travel to Dallas, Texas, for a one-day conference where over 30 speakers address important topics ranging from conflict management to dealing with prodigals.


LOUISVILLE Wednesday, October 16

Many attendees arrive a day early to take part in Pre-con Labs featuring more than 40 workshops led by a wide variety of presenters.

Seeds Family Worship kicks things off with energetic worship songs with lyrics taken directly from Scripture.


Beth Guckenberger, co-founder of Back-to-Back International Ministries, challenges listeners to lead their families to become ministers of God's peace, cutting through the chaos of culture to reflect His light into dark places. "Reckless faith is trusting the Who when you don't know the when, where, why, or how."


Ed Stetzer, president of Lifeway Research, encourages listeners that proven statistics indicate that a strong, Christian marriage between active, engaged believers has the best chance to successfully impress faith on the next generation. "No real researcher believes that Christianity is dying in America…not one!"

Thursday, October 17

Dr. Tim Kimmel urges attendees to make families and churches extensions of God's love and havens for His grace. "I want to treat my kids the way God treats His kids."


D6 Minis deliver abbreviated, intentional sessions with a specific challenge or strategy from a number of speakers in rapid-fire succession:


Mark Holmen, founder of Faith@Home reminds listeners that Deuteronomy 6 instructs us to love God first before we pass our faith to our children. Why? Our children naturally love what we love.


Mike Trimble, pastor of Kirby Free Will Baptist Church, Flat Rock, Michigan, shares three simple tips about "The Talk," and teaching children about godly purity and sexuality: 1) have a plan, 2) know what you are going to say, and 3) create an event to remember.


Tommy Sanders, professor at East Texas Baptist University, explains that today's children often base their beliefs on media messages because they get conflicting messages from their parents about faith. He challenges parents to make their faith clear to children in both word and action.


Lydia Randall, author of My Faith Box and director of the Faith Path, encourages leaders to take a deliberate step back from busy schedules to schedule time for the spiritual development of children.


Leneita Fix, program development director for Asian Youth Ministries, challenges families to accept the challenge of inner-city ministry because "a changed parent is a changed family; a changed family is a changed neighborhood; and a changed neighborhood is a changed city; and a changed city…well, that is a changed world."


Megan Lacefield, children's worker at New River Church in Weatherford, Texas, shares practical steps to combine the ministry efforts of any church into a single-focused unit working together to impress faith on the next generation.

Friday Morning, October 18

Drs. Les and Leslie Parrott, husband and wife team that has authored dozens of books and founded the Center for Relationship Development, tackles the tough topic of conflict in marriage, reminding the audience that conflict is often the result of faulty perceptions and gender differences. They list three simple solutions for resolution: qualify the importance of the issue; confront the issue; and work together to solve the issue without attacking one another.


Rob Rienow, well-known author and founder of Visionary Parenting, shares a singular plea: "The patterns and commands from the Early Church, as revealed to us by God through the Bible, are sufficient for all ministry today…and family ministry was woven throughout the methods of the Early Church."


Dave Stone, pastor of Southeast Christian Church in Louisville, Kentucky, shares three simple gifts that all kids (and adults) need to receive: value, grace, and love. He encourages listeners to realize how much God values them, and to accept his love, grace, and forgiveness.

Friday Afternoon, October 18

Robert J. Morgan, bestselling author and pastor of Donelson Free Will Baptist Church, Nashville, Tennessee, explains that even D6 parents sometime become L15 parents, that is, Luke 15 parents who deal with a prodigal child. He encourages L15 parents to allow their grief cycle to become a grace cycle, with five stops along the way: pain, prayer, patience, peace, and, finally, praise.


Randall House CEO Ron Hunter announces that D6 Conferences will continue in two locations in 2014, as D6 returns to Dallas, September 18-19, and Louisville, October 2-3.
About the Writer: Eric K. Thomsen is managing editor of ONE Magazine.