this is not a drill

The Remarkable Experiences of Robert Luther Sanders

by Eric K. Thomsen and Emily White

Find out more about the ministry of Free Will Baptist Home Missions by visiting their website: www.homemissions.net.
BORN IN 1922, ROBERT LUTHER SANDERS secured his spot in what some call the greatest generation in American history. From meager beginnings, he, his family, and his friends knew nothing of "great," unless followed by words like "depression" or "war." Yet the trials and turmoil of his youth gave birth to an unassuming perseverance that bolstered him into the middle of some of America's worst and greatest moments, and—more important—into dedicated service as a soldier of the kingdom of God.
Kentucky Boy
Luther was born in Emma, Kentucky, son of a bi-vocational Methodist preacher who ran a barbershop where a gentleman could get a haircut for 35¢. Tragedy soon struck the family by way of disease. Sanders' father died of Typhoid Fever at age 33.
With only one year of schooling, his mother struggled to keep the family afloat. As a result, over the next 10 years the family hopped from house to house, relative to relative—a total of seven different residences. The family finally settled at Luther's grandparents in Cow Creek, Kentucky. While living with his grandparents, Luther was converted as a young teen at the small Free Will Baptist church they attended.
At age 14, he began to preach, traveling throughout Eastern Kentucky as the featured speaker for many revivals. Although he enjoyed his ministry as a young evangelist, Sanders admits his sermons and delivery were not anything special. He drew large crowds, "not because I said anything great. People just wanted to hear the boy preacher." Yet these early years of ministry served as the foundation for a life devoted to faithfully sharing the gospel.
When Sanders was 16, a family graciously invited him into their home so he could attend school. While pursuing an education, he worked for his room and board by milking cows, feeding hogs, and other farm-hand chores.
Not Self, But Country
After a childhood on the move, the idea of a permanent home appealed to Sanders. Following his brother's example, he sought that "home" in the Navy. Sanders enlisted in July 1940, three months before a national emergency was declared as the world found itself spiraling toward a second world war. After 15 weeks of basic training in Norfolk, Virginia, the 116-pound-Sanders was assigned to the aircraft carrier U.S.S. Enterprise based in Pearl Harbor.
Ironically, Sanders' brother, Merlin, was also stationed on the Enterprise, assigned to the engine room. With a little persuasion, Sanders' request to join his brother in the engine room was granted. The brotherly bonding was short-lived, however, and Sanders soon found himself working in the mess hall.
Because Sanders was physically undeveloped, the work aboard the carrier was strenuous, with no sunlight or fresh air below deck. During an especially difficult assignment, he buckled to his knees and fell to the floor unconscious.
Though he didn't realize it at the time, his collapse became the turning point in his military career: "My division officer and one of the ship's doctors asked me how I was feeling. They agreed I needed to be transferred to the 'top side' so I could be exposed to sunshine and fresh air. This was the beginning of my career as a radioman."
Sanders began to learn Morse Code and soon became a radio operator. He sat at a typewriter decoding messages as they were received from various military stations.
Panic at Pearl Harbor
On the morning of December 7, 1941, Sanders and the Enterprise crew were returning to Pearl Harbor from delivering a squadron of 12 F4F fighter planes to Wake Island. The Enterprise should have docked in Pearl Harbor 24 hours earlier but had been delayed due to a strong storm. Two hundred miles from port, the Enterprise launched its planes to land at Ford Island. Unfortunately, this Sunday morning did not follow routine. The unarmed planes flew into disaster.
Military Photos: Courtesy, National Archives
The events of the morning are still clear in Sanders' mind. "I was in the radio tower when the Japanese attacked Pearl Harbor. I was doing back up, making sure the other radiomen didn't miss anything. I will never forget the panicked message: 'Japanese planes attacking Pearl Harbor—this is not a drill.' It was the first time we had ever received a message in plain English on the code circuit. We knew something was desperately wrong. We headed for Pearl as quickly as we could."
However, the Enterprise was not prepared for battle and had to redirect its course, waiting just outside the mouth of the harbor. Many of the planes launched from the ship earlier in the day were shot down; some falling to friendly fire from the confused and disorganized ground forces.
When the Japanese attack ceased, under the cover of darkness, the Enterprise nosed into the harbor. With a shaky voice, Sanders recalls the grim picture. "I will never forget the scene when we pulled into the harbor that evening. The ships were still burning, bodies were floating in the harbor, and the entire place was ascene of utter devastation. It looked like the end of a war rather than the beginning.
"We put on supplies, replaced our ammunition, and quietly slipped out of the harbor to avoid letting the Japanese know that the Enterprise had survived the attack. Then, we went on the hunt."
Post-Pearl Harbor
And hunt they did! The sturdy ship and its brave crew were involved in every Pacific battle, save two until 1945. With battles at Marshall and Gilbert Islands, Wake Island, and Marcus Island during the late winter and early spring of 1942 Sanders and his crewmates stayed busy. In April of that same year, Sanders witnessed the launch of 16 twin-engine, B-52 (check airplane) bombers headed for Tokyo. For that mission, the Enterprise rendezvoused with the U.S.S. Hornet, a ship from the mainland under the command of General Doolittle and his crew.
Perhaps, the most famous performance of the Enterprise came during the Battle of Midway (insert dates), considered the turning point of the war in the Pacific. Sanders recalled, "When the shooting and bombing ceased and the smoke cleared away, we had lost one carrier, 132 planes, and 307 men. But the Japanese lost four carriers, five battleships, a heavy cruiser, a seriously damaged second cruiser, all the planes on the four carriers, and about 3,500 seamen. From this time on Japan was on the defensive."
During the invasion of Guadalcanal on August 7-8, 1942, Sanders played a key role. He was one of the three radiomen who left the Enterprise for the Guadalcanal amphibious landing force. He set up radio communications between the floating carriers, the amphibious landing force, and the attacking planes.
Based on logistical intelligence he received from charge officers, Sanders was responsible for relaying messages to pilots concerning missions, targets, and when to return. "I will never forget one horrible moment when Japanese troops were hiding in a hospital and our pilots were directed to bomb the hospital. I remember the night before the troops were to go ashore, I was privileged to meet and pray with a group of about 25-30 Marines. These men knew that tomorrow would be rough as they stormed the beach, but they had an unshakable faith in God. I was encouraged by their faith."
After completing the mission at Guadalcanal, Sanders rejoined his crewmates on the Enterprise. He was surprised when his shipmates welcomed him back with a promotion to First Class Radioman and a commendation for his role at Guadalcanal.
Sanders remained on the Enterprise until 1943, through the battles and kamikaze (suicide) bombings. Through it all, Sanders remained true to his calling—both for his country and for his God. The same faith that carried him through the war gave him the strength he would need for life's next great adventure.
Home to Hawaii
Stationed in California after the war, Sanders received an honorable discharge as a Chief Radioman in 1946. Days later, he and his wife packed up and headed across the country to Nashville, Tennessee, to attend Free Will Baptist Bible College.
He recalls the trip with a wry smile, "Gas was 16-18¢ a gallon. I remember thinking, 'That's highway robbery' when we came to a station that charged a quarter per gallon!"
After earning his certificate from Free Will Baptist Bible College, Sanders earned completed his degree at Bob Jones University in 1951.
In the following years, Sanders pursued the profession he began as a young teen by pastoring churches in South Carolina, Alabama, and Missouri. Remembering his time in the Pacific, the quiet pastor began to make frequent suggestions to the leaders of the Foreign and Home Missions Boards that someone needed to start an evangelical work in Hawaii. In 1959, he realized that "someone" was Luther Sanders. "Be careful what you pray for," he chuckles.
In the early days of the mission work, the Sanders rented a small house on an unpaved road in a poor area of Oahu. They renovated the basement for use as a church. Though the facilities were primitive, the Sanders found that love and concern for people was enough to draw them into church. "With my military background, I had good rapport with the boys who were stationed there. At first, the congregation was largely military, but then we began to branch out and the islanders began to attend church as a result of [my wife's] Bible studies with the women. The men would sit in the background and listen to her teach. Next thing you know, they would come to church."
As a Free Will Baptist pioneer in Hawaii, Sanders said that the hardest challenge was "getting someone to stand still long enough to share the Word with them. It was a fast-paced culture with many, many religions. I can't say that I have ever been anywhere more difficult. I marvel at the way we were able to attract people. We simply let them know we were interested in them, no matter what religious beliefs they held.
Eventually our love and acceptance opened the doors to share the gospel with them."
Slowly but surely, a new congregation of believers began to form thanks to the hard work and dedication of the Sanders family. As Mr. Sanders had regrouped with the crew of the Enterprise years to sail on to great victories, he now turned his passion to winning souls. In the very same waters that entombed so many casualties of the War in the Pacific, Sanders baptized new converts.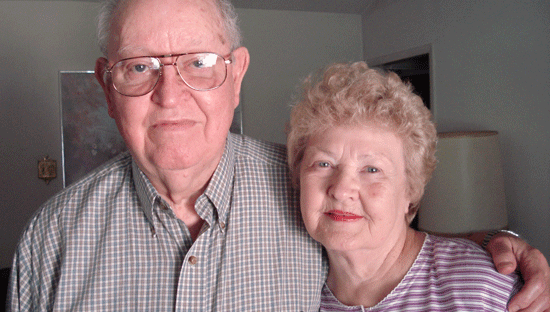 Photo: Luther Sanders and his wife today.
When asked about the keys to building the church in Hawaii, Sanders said: "The first key was not to get discouraged, to remember that it wasn't us doing it. It was God doing it. Enlisting good helpers was another key. It was a long-term project—day in and day out faithfulness."
In 1977, Sanders and his family returned to the mainland to resume pastoral ministry on the mainland. Long since retired and quite frail, Luther still eagerly follows the ups and downs of the ministry in Hawaii—the place where he learned to fight for souls.
As he looks back on a life committed to fighting for truth and justice, Sanders finds it both amazing and comforting to see God weaving details and opportunities together. From a boy who faced hard times to a young man engaged in battle . . . to a man learning to fight—not flesh and blood but spiritual enemies—Luther Sanders' life is a testament to the deep faithfulness of God and His great detail concerning the paths of our lives. With tears in his eyes, Sanders murmurs, "To God be the glory!"
ABOUT THE WRITERS: Eric K. Thomsen is the managing editor of ONE Magazine. Former book acquisitions editor at Randall House Publications, Emily Youreé works for Five Star Institute, an MMG communications company based in Hurst, Texas. Contact Emily at editoremily@gmail.com.
Q & A With Luther
Q. I understand you had an unusual nickname when you were a child.
A. Yes, my brother called me "bully" when he was mad at me, and the name stuck. I obviously wasn't a bully. When I joined the navy, I only weighed 116 pounds soaking wet!
Q. Who was the biggest influence on your life and ministry?
A. I guess the old man who pastored the Cow Creek FWB Church. Isaac Stratton had a deep influence on my life. He came once a month to preach. On the other weeks, we met for Sunday School and singing, but I always looked forward to his visit. He always took time for me. At the Bible College, many people influenced me, Dr. Johnson for example. I was in school with Dr. Miley and others. It was a great environment.
Q. Did you eat poi (traditional Hawaiian dish) while serving as a Home Missionary?
A. I did eat it, but I can't say that I liked it. Tasted like paste!
Q. What is your most vivid memory of WWII?
A. I cannot shake the sound and feeling of bombs striking the ship. We took several bombs on the Enterprise. In the aftermath, we would honor the dead by keeping one unidentified body for a memorial service although 65-70 men would be killed. They would place their bodies in a canvas bag with a five-inch shell for a weight and bury them at sea.
Q. Did you continue preaching while in the Navy?
A. The men on ship learned that I was a preacher. Once a week, we met for a service. One chaplain allowed us to meet. The other would run us out of the chapel if we were caught. On those occasions, we met in the library aboard ship. I enjoyed my ministry there, and God blessed.
Historical Note:
The U.S.S. Enterprise CV-6 is remembered as the most decorated ship of the Second World War. Her final records boast 911 enemy planes shot down; 71 enemy ships sunk by her aircraft; 192 enemy ships damaged or sunk; numerous shore installations damaged or destroyed; 371 lost personnel; and earned 20 Battle Stars (out of a possible 22 in the Pacific Theater).