June-July 2014
Looking for Leaders
------------------

Leading the E-TEAM Way
by Courtney Lindsey
E-TEAM… Being part of this organization changed my life, first as a student myself and later as a leader watching the lives of others changed.
Even though I answered the call to missions at church camp in 2006, I was reluctant to participate in E-TEAM. A young woman in my church convinced me to apply, and I am so glad I did! As a student, I participated in E-TEAM trips to Brazil in 2007 and Japan in 2008.

Coincidentally, one week before my 2006 decision, my future husband Matt also answered the call to missions during E-TEAM training in Nashville, Tennessee. Matt traveled to France in 2006 and Panama in 2007. Although Matt and I are both from Oklahoma, grew up attending the same church camp, and were both E-TEAM students in 2007, we didn't meet until 2009 when we were accepted as members of the College Missions Program (CMP) to France.

Soon after we returned, Matt and I began dating. When we started talking about marriage, we also talked about serving as E-TEAM leaders. We married in July 2011 and quickly applied to be leaders for the following summer. While we hoped and prayed we would be accepted, we didn't really expect to be. We knew our youth and recent marriage would probably be negatives. Much to our surprise and excitement, our prayers were answered, and we prepared to lead E-TEAM Spain 2012.

In December 2011, Matt graduated from East Central University in his hometown of Ada, Oklahoma. Armed with a B.S. in Biology with a concentration in teaching, he planned to teach high school sciences. But graduating in December meant applying for jobs in the spring of 2012 for the upcoming school year. We were nervous. Most schools hire in June during the weeks we would be leading an E-TEAM. But we knew it was God's plan for us to lead, so we trusted Him to provide Matt with a job.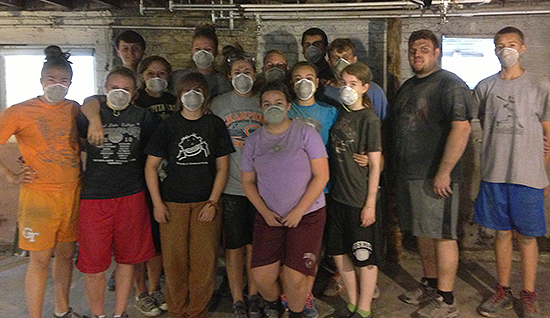 God worked in many ways during this trip. In Spain, Matt had the unique opportunity to reconnect with Jonathon, a young man from the family who hosted him while a student on E-TEAM France. It is amazing to see the lifelong friendships created through the bond of Christ.

Our time with E-TEAM—both in training and in Spain—made it clear it was time to start the classes International Missions requires of missionary applicants. Our team prayed diligently about Matt's job, and God answered.

Thirty minutes after our plane landed in the States, Matt received a phone call from a school in Oklahoma City. They wanted him to interview as soon as possible. The morning after we returned to Oklahoma, Matt interviewed and was hired on the spot. In January 2013, I returned to Hillsdale to begin completing the classes I need to apply for missions work, and we applied to be E-TEAM leaders again.


We served as team leaders for E-TEAM Chicago 2013. Working in Chicago was a great experience and reminded us we can go right across the street, city, state, and country to find people who need Christ just as much as people across the world. We have since started a youth mission team with students in the youth group of our local church, and we are pursuing missions opportunities in our own community.

As team leaders, we feel it is important to develop relationships with our students before training begins. We communicate with the students beforehand so we can get to know them. We stay in contact with our students after we return, and see our students when we get an opportunity. Even though we are only with them a few weeks, we truly become like family and claim them as our own.

Matt uses the team-building exercises and relationship skills he learned at E-TEAM in his classroom. This has given him the opportunity to invest more into the lives of his students. His school is 43% Hispanic, 27% African-American, 23% Caucasian, and 7% Native-American and Asian. He incorporates the knowledge gained from experiencing various cultures to expand his students' worldview, develop their understanding of culture and society, and teach them to appreciate one another. He is attending Hillsdale online, pursuing the classes he needs to apply to IM.
We hope, within the next couple of years, to be approved as missionaries. We aren't sure where God wants us to go, but we are willing to go anywhere. We hope, wherever God calls us, one day we can work with E-TEAMs and continue the ministry of this amazing organization.
Last fall, we applied as team leaders once again, and we can hardly wait to lead E-Team Uruguay this summer. Who knows what God will do in the lives of our students as well as our own. He is still leading…the E-TEAM way.
Want to Know More About E-TEAM?
Established in 1992, E-TEAM is a life changing, short-term summer missions experience for students who have completed grades 10-12. The program provides a week of intensive training and two weeks of hands-on, cross-cultural experience where students learn from and serve with Free Will Baptist missionaries. The experience wraps up with a time of debriefing and closing ceremonies.

In 2014, 20 leaders will guide 98 students through ministry in Limeira, Brazil; Jaboticabal, Brazil; Chicago, Illinois; Cuba; France; Hokkaido, Japan; Tokyo, Japan; Panama; Spain; and Uruguay.
Apply for E-TEAM 2015 by completing the online application: www.fwbgo.com/go