December-January 2014
Roots: Growing
Deeper in Faith
------------------
news around the nation

The Home Missions Department exists to communicate the gospel, make disciples, and plant new churches in the United States, Canada, Mexico, and the U.S. Virgin Islands. Find out more at www.homemissions.net.
Home Missions Welcomes New Staff Member

Antioch, TN—Home Missions is pleased to announce that Brad Ransom has assumed the post of director of church planting, following the resignation of previous director, Richard Atwood. Brad will work directly with missionaries and their families to help and encourage them in their work.

Ransom moved to Oklahoma from Southern California after high school graduation in 1980 to attend Hillsdale FWB College. He has been in full-time ministry since 1981 and is a lifelong Free Will Baptist. Brad graduated from Hillsdale with a Bachelor of Theology degree in 1988. He went on to complete both Master and Doctor of Ministry degrees in Christian Counseling as well as a Master of Arts in Evangelism and Church Planting.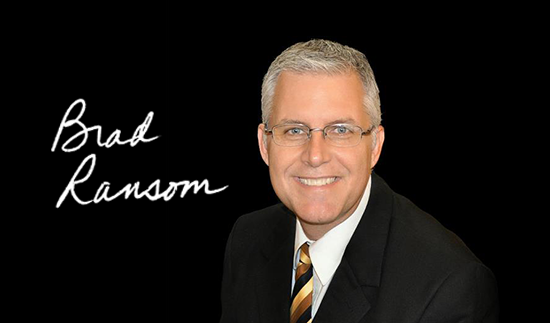 He has been a member of the Oklahoma State Christian Education Board, the Hillsdale Board of Trustees, and the Oklahoma State Mission Board. He also served as moderator of Oklahoma's Center Association and was a member of the Center Association Executive and Credential Boards.

Ransom most recently served full-time as the mission director for Oklahoma Free Will Baptist Missions from January 2007 to August 2013. Prior to this role at the Oklahoma State Office, he was senior pastor at First FWB Church, Sulphur, Oklahoma, from December 1993 to January 2007. He also served on the pastoral staff at First FWB Church, Ada, Oklahoma, from 1988-1993, and at Grace FWB Church and Logos Christian School, Oklahoma City, Oklahoma, from 1980-1988.

Brad and Lori, his wife of more than 32 years, have three grown sons and seven grandchildren.
Passing the Baton
by Larry Powell
I am passing the baton to my friend who has a love for the past and a vision for the future of Home Missions North America. David Crowe has a unique perspective as to who we are as Free Will Baptists. He has a working knowledge of our history and a comprehensive understanding of our mission of communicating the gospel and making disciples.

David has served with Home Missions for 18 years. He and I often chuckle about all the titles he has held in our department. He has been director of missionary assistance, director of church growth, and director of development. It is my pleasure now to introduce him as the new general director.

David is certainly qualified in many ways to take up the baton and run the race. He loves our church planters and prays for their success every day. Our missionaries can sense his heart for their families and their mission. Brother David is loved by our pastors and people across America.

He has preached over 1,300 revivals in our churches, colleges, mission conferences, and denominational meetings. He is a friend to pastors and a great encourager to church families. Our people often quote from his unforgettable sermons entitled, "Hands Held High," "Balcony People," and "Even Now." Our people are proud to be Free Will Baptists when they hear his inspiring sermon series on Free Will Baptist history and heritage. Some 195 men have responded to the call of gospel ministry as he gave the challenge to serve.

David has a keen interest in the ministry of Free Will Baptist chaplains who serve in the military around the world. He will be able to pray with and for them effectively as he himself served as a chaplain's assistant for 15 years in the Army National Guard. During that time, he led some 300 military men and women to trust Christ as Savior.

Perhaps some people may not think of David as an academic, but he earned a B.A. from Welch College, a Master of Divinity and a Ph.D. from Moody and Liberty University, along with several other degrees. He has used his education effectively to be a blessing to many.

David hails from his beloved state of Alabama where he met and married his wife Kathey. She is an inspiration and encourager.
As I pass the baton to my friend, David Crowe, let us all pray that he will serve and finish well.
About the Writer: Larry A. Powell served as general director of Home Missions from 1999-2013.
A Legacy of Passion
by David Crowe

For 12 years, it has been my privilege to work with General Director Larry Powell as he led Home Missions. Brother Powell will retire at the end of this year, and he and his wife Wanda will devote more time to each other, their children, and their grandchildren. As I thought about writing this article, many things came to mind. I could simply give you the Powells' resume, and you would be impressed with their education, their experience as three-time home missionaries, and their faithful service pastoring established churches. I could tell you all Home Missions accomplished under his direction and leadership, and you would be thrilled.

I chose, however, to take a different approach. Let me tell you about Larry Powell the man. Many times, we know people only from a distance. We see them at national conventions and speak briefly with them, if at all. We see their pictures or read their articles, but really do not have an opportunity to get to know them. I want to share what I have learned about Larry Powell as a close, personal friend.

When he first came to Home Missions as general director, one of the first things that impressed me was his passion—passion for souls, for church planters, for established churches and their pastors, and for his office staff. I listened to him pray for others, and watched as tears ran down his face. I saw him agonize over decisions that would affect the lives of others. God truly placed a heart of compassion in Larry Powell.

Not only do I love his passion, I've learned from his preaching. Brother Larry has some wonderful preaching gifts. He enunciates every syllable in English or Spanish. He can say more in 25 minutes than many preachers can in an hour. (I'm still working on this.) He preaches with his head, and he preaches with his heart. He means what he says, and he has something to say.

During the time I have spent with the Powells, I have watched them live out their purpose. Many people in ministry spend their lives trying to determine their purpose in the Kingdom. Larry and Wanda understood and answered their call early in ministry and have been living and fulfilling that purpose since. What a joy to see God's servants living His purpose for their lives.

God blessed Home Missions, as well as my own life and the life of my family, when He allowed our paths to cross with Larry and Wanda Powell.

Larry, we will miss you, and we pray God's best for both of you in this new stage of your ministry.
About the Writer: David Crowe was named general director of Home Missions in July 2013. He and his wife Kathey live in Cane Ridge, Tennessee, and attend Rejoice FWB Church.