June-July 2021
Everyday Heroes
------------------

news around the world
IM serves churches, pastors, and people by helping them fulfill their role in establishing churches beyond North America so unreached peoples can know the joy of a relationship with the living God. To find out more about the ministry of IM, visit www.IMINC.org
---
Veteran Missionary Carlisle Hanna Retires

Antioch, TN—Carlisle Hanna, a faithful servant in India for 70 years, announced his retirement on March 31, 2021. "Though we knew Brother Carlisle's retirement letter would come, it was difficult to see it in print," reflected General Director Clint Morgan. "An era of Free Will Baptist missions is closing. Seventy years of service is a milestone few could imagine, and even fewer will obtain. This denomination will forever honor the faithful service of Brother Carlisle; generations to come will speak of his example of faithfulness."
Hanna cited health as the reason for ending his time in India. He wrote: "I have reached a point in my life and health that I know I must retire. I have served 70 years with IM. I am thankful the Lord enabled me to serve these years. We are grateful for the many who have been reached for Christ and the many churches in both north and south India. This is a difficult step, but one I must take."
Brother Carlisle has served longer than any other Free Will Baptist missionary in history. In fact, Morgan noted, "He has served longer than any other missionary we can find from any agency. Brother Hanna is known and appreciated far and wide by Free Will Baptists and others." Board
Chairman Jeff Nichols stated, "So many things changed in the world in 70 years, but Carlisle Hanna was a constant in India. The denomination was represented well by Brother Carlisle, his faithful service, and consistent presence with the people of India." Vice-chairman Rodney Yerby agreed, "Not only has Brother Hanna shined the light of the gospel in a dark part of the world, his life has also provided an example of humility and faithfulness while advancing the Kingdom to the unreached."
Carlisle and his wife Marie were appointed in 1951 and sailed for India in 1952. When Marie went to be with the Lord at age 70, she had served faithfully 46 years. She died and is buried in India. Hanna served unfailingly through wars, pestilence, earthquakes, Bengal tigers, disease, severe spiritual attacks, and the loss of a child and spouse. All the while, he remained faithful to his Heavenly Father, his calling, and the people of India. Because of the marvelous work of the Father and the devotion of Carlisle and Marie Hanna, the gospel surges forward in India. "
We pray the grace, mercy, and love of Christ be bestowed on Brother Carlisle each day," Morgan concluded. "Please join us in praying for Brother Hanna's health as he moves from full-time missionary status to a well-earned rest and retirement."
---
Cheri Ham Retires
Antioch TN—Cheri Ham announced her retirement effective March 31, 2021. Cheri filled various roles over 24 years with IM. After beginning part time in December 1996 with computer and network responsibilities, Cheri demonstrated a passion for excellence, attention to detail, and a firm grasp of anything related to data and technologies.
After becoming full time in 2002, Cheri added web development and communications responsibilities to her duties. In May 2006, Cheri shifted to the financial operations department. Starting as an accounting clerk, she quickly advanced to financial operations assistant and, ultimately, financial operations manager.


CFO Rob Conley remarked, "Cheri can take on any task, simply 'figure it out,' and get it done. She comprehends computer data better than anyone I've worked with. While her expertise is top-tier, her love for missionaries is the first thing you notice about her—leading her to go above and beyond for them."

Cristina Price, missionary to France, spoke for many missionaries when she said, "God blesses missionaries with many gifts; unfortunately, crunching numbers and navigating technology are not always among them. To fill that gap, God gave us Cheri Ham. She wears her genius lightly; her humility and genuine love for her mission family are undeniable."
---
Missionaries Assigned to Two Colleges
Antioch, TN—Missionaries in Residence (MIR) live on the college campus, teach intercultural courses, and interact with students. For the 2021-2022 academic year, Dr. Kenneth and Rejane Eagleton (left) will serve as MIR at Randall University in Moore, Oklahoma, while Tim and Kristi Johnson (right) will serve Welch College in Gallatin, Tennessee.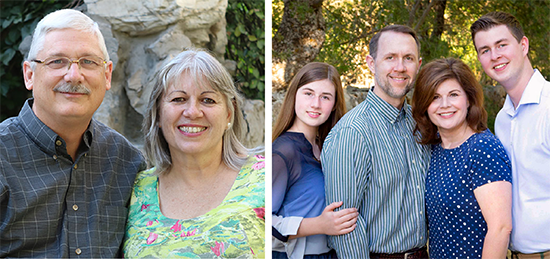 Initially appointed to Ivory Coast in 1984, the Eagletons served through 2002, focusing on medical work and, eventually, leadership training. The civil war in Ivory Coast led to reassignment to Brazil in 2003, where leadership training remains their focus. Kenneth served as regional director for Latin America and Africa from 2012 to 2017, before accepting the director of field partnerships position in 2018. The Eagletons will continue to be available for missionary services and meetings, and Kenneth will continue as director of field partnerships. Randall President Bob Thompson stated, "Their presence will help us encourage student involvement in missions. It is our desire and prayer to be a Great Commission university."

Appointed career missionaries to Spain in 1997, the Johnsons began their ministry in Villalba. In 2005, Tim and Kristi joined Anthony and Lea Edgmon in planting the first Protestant church in Alpedrete's history. In August 2022, Tim will transition into a full-time faculty position and program coordinator of Intercultural Studies. He will fill the role left by retiring professor Dr. Ron Callaway. Ron and his wife Linda served as missionaries to Panama, Cuba, and Spain from 1976 to 2003.

Tim and Kristi have two children. Alejandro attends Welch College, where he plans to complete his M.Div. following his 2022 graduation. In June, Ana will graduate from high school in Spain where she studies bilingually in French and Spanish. She plans to participate in Truth & Peace this summer and attend Welch in the fall.
---
ETEAM Deletes Overseas Destinations Due to COVID-19
Antioch, TN—Dr. Neil Gilliland and the IM leadership team announced April 1, 2021, all ETEAM international trips are officially canceled for 2021.
Barring additional virus spikes and lockdowns, ETEAM will move forward with a trip to Chicago, IL, where students will serve at Northwest Community FWB Church and other cross-cultural ministries in the Chicago area.
Gilliland stated, "In 2020, as a result of the COVID-19 pandemic, we canceled all ETEAM trips. Unfortunately, most countries remain closed, making international travel impossible."