June-July 2014
Looking for Leaders
------------------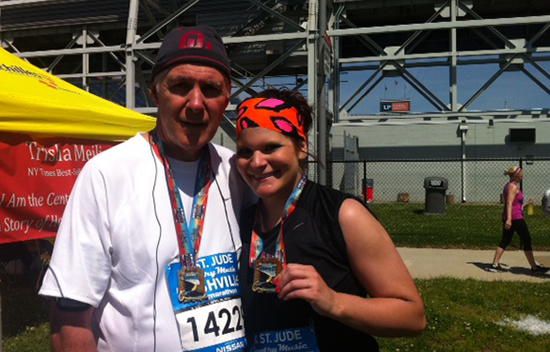 one to one: Lessons about life, ministry, and grandkids
by Keith Burden, Executive Secretary, National Association of Free Will Baptists
13.1
It was late October 2013. I received an email from my daughter Katie. She asked if I would consider running the half marathon with her in Nashville on April 26, 2014. I was impaled on the horns of dilemma. I did not want to disappoint my daughter, but at the same time I did not want to make a promise I could not keep.

A few days later she asked my wife, "Is dad ignoring my emails?"

I was. Guilt-ridden, I gave in and called her.

"Katie," I said, "I'm about to turn 60 years old. I'm out of shape and overweight. I'm not sure I can do it."

Finally, like any dad who wants to please his kids, I gave in and consented to run with her. Training began November 1. That first morning I ran three minutes without stopping and thought I was going to die. My heart was racing. My lungs were burning. My legs felt like spaghetti. What was I thinking?

Two things immediately became apparent: (1) I had to lose some weight and get into shape; (2) I needed a plan.

Coming up with the plan was simple. A number of websites provide great training tips and schedules. The one I selected had specific instructions and incremental goals spread over a 12-week period.

Losing weight and getting into shape wasn't as easy. I knew I had to change my eating habits to shed unwanted pounds. For me, the battle started in my brain. I had to make up my mind, roll up my sleeves, and make better food choices.

Exercise was equally challenging. I'm a morning person, so I opted to get up earlier to do the required training. Crawling out of bed at 4:30 a.m. and running alone in the dark (especially when it was windy and cold) required discipline. I rediscovered the truth of the old adage—"No pain, no gain."

Throughout the experience I thought a lot about the truths of Hebrews 12:1.

"Wherefore seeing we also are compassed about with so great a cloud of witnesses, let us lay aside every weight, and the sin which doth so easily beset us, and let us run with patience the race that is set before us."

Encouragement: The support I received from my "cloud of witnesses" (family and friends) was invaluable. We all need an occasional pat on the back.


Encumbrances: Laying aside "every weight" (in my case 37 pounds) was necessary. What do you need to discard to run well? Perhaps some lifestyle changes are in order.


Endurance: Running "with patience" (logging 190 training miles in three months) was key to finishing the race. When doing hard things in life, there is no substitute for patience and commitment. Just keep going.

Running 13.1 miles is not a sprint. Neither is the Christian life. Stay in the race. Advice for prospective marathoners? Do it before you turn 60.
About the Column
One to One is a regular feature of ONE Magazine. Written by Keith Burden, executive secretary of the National Association of Free Will Baptists, the column explores life, ministry...and the joys of grandchildren.